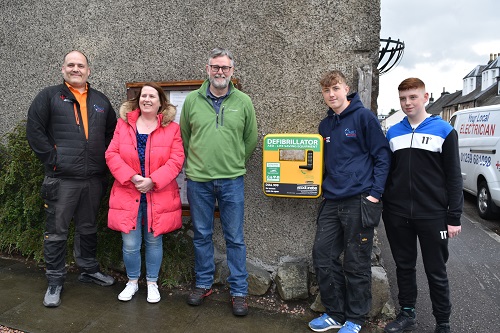 The village of Cambuskenneth, near Stirling, now has a Public Access Defibrillator installed on the village hall in South Street. The defibrillator has been registered with the Scottish Ambulance Service and also on the national database called The Circuit.  
Ross McGregor, Chair of Cambuskenneth Community Council said "Cambuskenneth Community Council are delighted that we now have a defibrillator in the village. Many people need to be thanked for getting this project completed. We would like particularly to thank the anonymous donors for donating some of the costs for the purchase of the defibrillator and Neil Gault from Gault Electrical Solutions Ltd for kindly installing it free of charge. Cowane's Trust kindly gave permission for installation on the Village Hall. Anne Marie Oates was instrumental in getting us from a 'good idea' to an installed defibrillator. Finally, thanks to AEDdonate who donated towards and supplied the unit. While we hope it never needs to be used, we're glad that it may, one day, save a life."
The defibrillator is available 24/7 and can be accessed by calling 999. The caller will be advised of the location of the defibrillator and provided with the code to open the secure cabinet in which it is housed. The ambulance call assessor has the ability to talk to any caller, defibrillator trained or not through instructions on how to use the device as well as CPR techniques. The defibrillator itself also provides voice guidance throughout and visual guides are also present.
The chance of survival after Sudden Cardiac Arrest decreases minute by minute, but if someone is shocked with a defibrillator within 3 minutes their chance of survival increases by 70 %.
AEDdonate covers the whole of the UK to raise awareness, knowledge, and confidence in the safe use of defibrillators and CPR as well as fitting them within local communities.
To donate to the charity from home visit aeddonate.org.uk, or to discuss fundraising for a community defibrillator in your local area call 01785 472 224.
If you would like more information on how you or your business can donate a defibrillator to a Community Public Access Site visit https://www.aeddonate.org.uk